In
The 3 Step Pencil Grip Training Kit
, there were three different grips. This product was the reason we asked to be on this review. My son, Nate, has always had trouble with handwriting. He has other issues, too, that all seem to point to a specific diagnosis, but that isn't really relevant here. His handwriting is the problem that we feel the need to solve. He and I have worked very hard for many years in an attempt to make his writing readable. Very little has ever worked.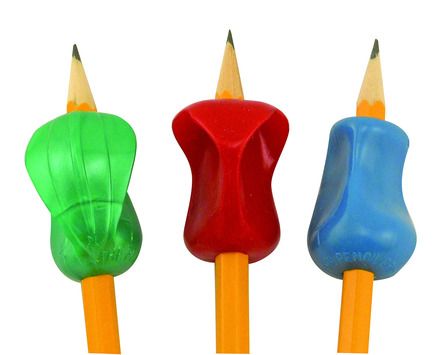 The most progress we have ever made has been with the Pencil Grip. We received three grips,
the Crossover Grip, which is meant to be used with adult supervision to begin teaching/correcting the grip. It is the green one pictured above with a "superhero cape" to provide structure and reinforce the correct positioning
the Pinch Grip, which is the transitional one, of course. It is the red one pictured above and only has a partial covering for the fingers.
the Pencil Grip is the third step. It is the blue one pictured above and provides guidance for positioning.
They are all made of silicone and are roughly an inch in length. They all fit easily over all of his pens and pencils. I simply let him choose the one he felt most comfortable using, which was the Pencil Grip. He knows how he is supposed to hold his pencil, but has a hard time actually doing it without the Grip.
Below are some samples of his writing with and without the Grip. First, his name with (the top one) and without (the bottom one), in print. I can't see an incredible difference, honestly, but his print has never been a huge concern of mine.
Next, his cursive sample. You can see in the top picture (without the Grip) all the letters are the same size, wildly slanted in many directions, and very messy. The bottom picture, (with the Grip) has letters that are appropriately sized, correctly formed, stand mostly upright.
His handwriting is still not perfect or beautiful, but I do enjoy being able to read it without a translation! More importantly, he prefers how his writing looks with the Grip. It also makes it easier on his hand when he writes. He has a lot more stamina when using the Grip.
All in all, we really love it!
We also enjoyed playing with
The Ultra Safe Safety Scissors
. A long time ago, I saw scissors similar to these and paid about fifty cents a pair for them. My kids were not impressed. They said they were hard to use. They were also too dull to cut paper. So I got rid of them.
But the expression, "You get what you pay for" is so often very true! These scissors are amazing and fun and quite usable.
As you can see, the little three year old that I babysit had a great time cutting during school one day. It took me about three seconds to show him how to slide the paper inside the plastic guard and he spent about thirty minutes cutting that paper into little slivers. I didn't have to hover over him because he isn't about to pinch his finger with the guard there!
He has already used scissors before, so we didn't use the training lever, which forces the scissors to automatically separate after being squeezed together. But I had my big kids try it and it worked for them quite well.
These are a great pair of first scissors for your little ones!